Sparkle-Top Models (1965-1969)
In 1965 the Fender Rhodes Electric Piano became available in several configurations. The most common was the 73-key version with a 50W amplifier base (4 x 12" speakers, mono), built-in EQ (treble/bass) and tremolo effects, and a silver glitter-top harp cover. The pianos manufactured during this period featured wooden piano hammers (felt-covered, teardrop shape) and untapered Raymac tines. This combination produced the raw, bell-like sound heard on pioneering Rhodes recordings, most notably Bitches Brew and In a Silent Way.
Listen! 1960's Fender Rhodes Electric Piano
No. 1 (MP3, 793K) -
No. 2 (MP3, 486K) -
No. 3 (MP3, 179K) -
No. 4 (MP3, 764K)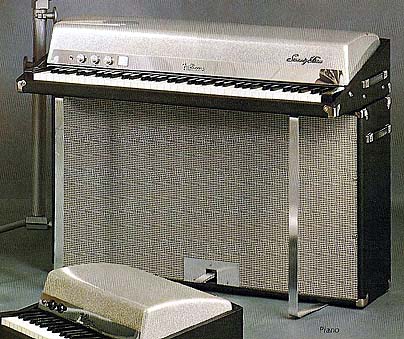 Fender continued to offer the Fender Rhodes Piano Bass and Fender Rhodes Celeste as more portable options, both featuring a compact design and requiring an external amplifier. The Piano Bass consisted of the bottom 32 notes from the 73-key Electric Piano, while the Celeste represented the middle 3 octaves.
Special order pianos were also produced by the factory during these early years, including a 61-key version of the Electric Piano, a 49-key Celeste, and the "Piano Celeste" (the love child of the two, pictured below). The Electric Piano variants included a smaller amplifier cabinet with 2 x 12" speakers.