Rhodes Super Site Founders
James Garfield is a Composer, Arranger, Keyboardist and Bassist located in Monterey, CA. He has been working as a Web Developer, Software Engineer & Webmaster since 1995. James studied Composition in the Oberlin Conservatory's Electronic and Computer Music program and has been the Rhodes Super Site's Owner & Webmaster since its inception in 1996. [ facebook ]
Frederik "Freddan" Adlers is a professional Rhodes Technician and Collector located in Mölnlycke, Sweden. Freddan is a former professional keyboardist, producer and store owner, has been in the business since 1972 and is the Rhodes Super Site's Lead Historian. [ website - facebook ]
About FenderRhodes.com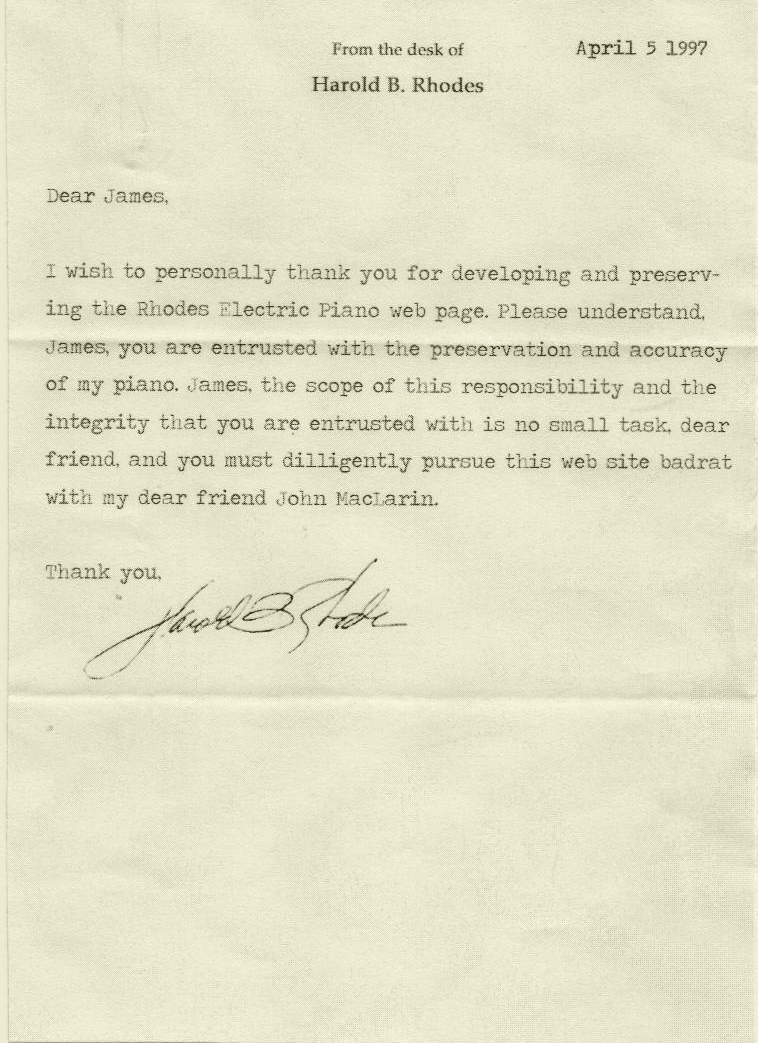 The Rhodes Super Site started out at BadRat.com in 1996 as the Rhodes Help Desk, a technical resource for Rhodes players seeking parts and repairs for their aging and well-loved (i.e. road-worn) pianos. The site was originally based around an online version of the Rhodes Service Manual, which covered maintenance procedures and schematics for nearly all Rhodes models. A worldwide list of parts dealers and service centers was also established (and continues to grow each day).
As the number of visitors began to increase, so did the number of people involved in its development. Keyboardist and Rhodes technician Frederik "Freddan" Adlers provided an English translation of his historical article on Harold Rhodes, published in the September 1996 issue of the Swedish music magazine MM. The article detailed both Harold's life and the development of the Rhodes pianos from beginning to end, filling what proved to be a large void in the site's content.
At the same time, Swedish university student/guitarist Andreas Arnström was developing his own tribute to the Fender Rhodes: the Rhodes Information Site. This website focused on the things that the Rhodes Help Desk lacked, namely a strong visual presentation and individual sections for the various Rhodes models. After two years of competition, the decision was made to merge the two sites, and in the summer of 1999 the Rhodes Super Site was born.
DISCLAIMERS: This site is in no way affiliated with Fender Musical Instruments, CBS Musical Instruments, the Roland Corporation, the Rhodes Music Corporation, the Fender Rhodes Story, the Harold B. Rhodes Music Foundation or the family of Harold Rhodes. It was developed by and for Fender Rhodes enthusiasts, as a technical and historical resource for owners and players of vintage Rhodes pianos (1959-1984). The Rhodes Service Manual and certain photos used throughout the site were originally published by CBS Musical Instruments. The English translation of "Fender Rhodes: The Piano That Changed the History of Music" was contributed by the author. The Fender, Rhodes and Roland brand names and logos are trademarks of their respective owners, and are not specifically endorsed by the owners of this website.
The Service & Repairs listings found in this site are provided for vintage keyboard parts manufacturers/dealers, repair technicians and service centers, several of whom have funded the development of the Rhodes Super Site. Some postings were submitted directly by the business or individual, while others were recommended by satisfied customers. Please observe and use the rating system.