Pre-CBS Models
Harold Rhodes' first piano, unlike the others, was acoustic in nature. The Army Air Corps Piano (a.k.a. "Xylette") was a 2-1/2 octave laptop piano built during World War II, with tonebars made from aluminum pipes found in B-17 bombers. This instrument was designed for therapeutic use, in addition to being a teaching tool: injured soldiers were able to play the Xylette in bed and were instructed using Harold's "Sit Down and Play" piano method. The War Department commissioned Harold to write a training manual for the piano that included blueprints for manufacturing it [this manual can be found in the U.S. National Archives]. An estimated 125,000 Xylettes were built between 1942 and 1945.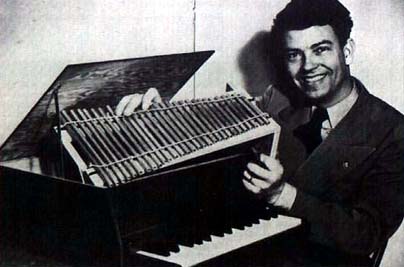 Harold's next invention was also created for eductional purposes. The Rhodes Pre-Piano, which made its debut at the 1946 NAMM convention, was the first "electric" Rhodes piano. The built-in amplifier used 7F76U6GT/6X5 tubes, a 6" 3-1/2 ohm speaker, and a piezo pickup on the bottom harp [click here for schematics]. At first glance, it might be mistaken as a variant of the Piano Bass. The Pre-Piano has a 38-note keyboard covering the midrange notes, with a classy wooden body and a stand/bench that makes it look like it belongs in an elementary school (appropriately enough). The sound is somewhat like a toy piano, with a "plinky" bell-like tone. This not a Rhodes you would gig with: it is most definitely a collector's item.
Over a decade later, the Fender Rhodes Piano Bass was the first Rhodes electric piano manufactured by the newly formed Fender & Rhodes company. It was a 32-note keyboard covering roughly the same range as a bass guitar, with the bottom note being low E. The Piano Bass is best known as the bassist for the Doors (played by Ray Manzarek's left hand).
During development, this model was code-named the "X38". A handmade prototype was first demonstrated in Las Vegas in 1960, featuring a "toy piano" design complete with 4 legs and a sustain pedal (taken from a pedal steel guitar). The sustain pedal did not work, however: it was a mockup for press photos. Once in production, the Piano Bass was either mounted on a tripod stand or placed on top of an organ or other keyboard.
Photos of the first Piano Bass produced (or what's left of it) are below. Notice that inside the piano, it looks a lot like any other Rhodes. The picture in the lower right corner is a first-generation tine & tonebar assembly. Click on any photo for a close-up view.
Later the Piano Bass would be produced with cream tolex and fiberglass tops in a variety of colors, "Fiesta Red" (i.e. orange) being the most common.
By 1963-64, the Fender Rhodes Celeste was also available. Similar in appearance to the Piano Bass, the Celeste covered the middle range of the piano and was manufactured in 3- and 4-octave configurations (C to C). Also pictured in the catalog at the time were the Piano 61 and Piano 73, two extremely rare models that are best described as prototypes of the self-amplified, nearly full-size pianos that would be released in 1965. The amplifier used in these pianos is a mystery considering that so few were produced, but we do know that it had a tube preamp and a footswitch input, probably based on one of the early 60's Fender guitar amps with a tremolo effect.