Rhodes Mark V (1984)
In the midst of questionable "innovations" like the Mark III EK-10 and the Electronic Piano, Harold Rhodes and his team set out to develop the ultimate Rhodes piano. Engineers Mike Peterson and Steve Woodyard initially designed two completely different models, known internally as the Mark IV and Mark V. The Mark IV only found life as a prototype; it was the Mark V that would become the final, greatest Rhodes ever.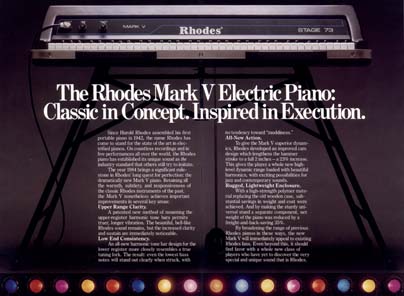 Featuring an all-plastic body, the Rhodes Mark V Stage 73 was the lightest Rhodes to date, with a weight of 100 lbs. The leg set used for all previous Stage models was replaced with a one-piece collapsable stand designed by Mike Peterson, capable of supporting 450 lbs. Improvements to the piano's action included a return to the use of wooden keys, as well as a modification to the dampers that resulted in a more bell-like tone. Using high-speed photography, the Rhodes engineers had discovered that the original damper design caused an initial snap-back when the key was struck, "kissing" the tine lightly and dampening the overtones before coming to a resting position. The new dampers behaved correctly when depressed, allowing the tines to ring more freely.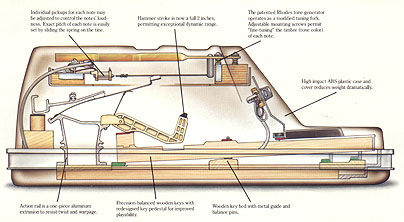 The Rhodes Mark V Stage 73 + MIDI was also prototyped during this time, with Chick Corea, John Novello and Steve Woodyard being the original owners of the three pianos built. This was a customized Stage 73 with a MIDI output for controlling external synthesizers, as well as a set of inputs and outputs for mixing an additional audio signal with the Rhodes output. The front panel included a 3-band EQ and controls for splitting and layering the keyboard's MIDI zones. The MIDI Mark V made its debut on the first Chick Corea Elektric Band album, connected to a Yamaha TX816 rackmount synth.

The Mark V Stage 73 was the only new piano to go into production before the Rhodes factory closed its doors forever. The Mark V Stage 88 was pictured in brochures at the time, but it was never actually for sale. Suitcase models were still being produced in the Mark II style, with an updated control panel being the only noteworthy improvement. Plans for the new Suitcase pianos included a more powerful 200W amp, as well as a built-in stereo chorus effect that would be part of the preamp. Also being researched at the time was the Rhodes Pro 88, a Suitcase 88 with electronics similar to the EK-10 and a front panel interface taken from the Chroma. The most appealing feature was the built-in phase shifter.