Rhodes Mark II & III (1979-1983)
As a new decade was approaching, and at the height of the piano's popularity, CBS decided to put a new face on the Rhodes product line. The Rhodes Suitcase Piano was updated with a sleek black design, a removable music rack, and a flat harp cover for supporting an additional keyboard. Aside from these cosmetic enhancements, the "new" Suitcase pianos of 1979 were identical to the previous "Mark I" version.
And after 10 years of being designated "Mark I", the Rhodes Mark II Stage Piano made its debut. Like the Suitcase models, it was a last-generation Mark I piano with the new all-black design.
The Suitcase and Stage pianos continued to be available in 73- and 88-key configurations, but for some people, the Stage 73 was not portable enough. In 1980 the Rhodes 54 was introduced, a 54-key variation on the Stage model. This version covered the middle register of the piano, intended for players who were only interested in using the Rhodes for chords and melodic passages during live performance.
During that year, plastic keys were introduced as an alternative to the wooden keys, which were found to be prone to warping after years on the road. As a result, the later Mark II-era pianos have an action that feels more like a digital piano. The plastic keys are most easily identified by looking inside the piano: the keybed is entirely black.
Harold Rhodes was disappointed in this change, which was not his idea. He argued that it lowered the quality of the piano and had a negative impact on the feel of the keyboard. But this "improvement" was nothing compared to those found in the Rhodes Mark III EK-10, also released in 1980. This was a Stage 73 with an integrated synthesizer component, designed to create "futuristic" sounds by modulating, mutating and mutilating the Rhodes tone.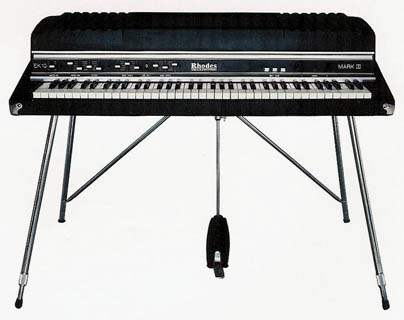 The EK-10's front panel included the volume and EQ controls you would expect to find on a Stage 73, jumbled together with volume, filter and tuning controls for the synthesizer voices. Theoretically you could turn down the volume for the synthesizer, leaving only the pure Rhodes sound. Whether this worked in reality is unknown (and unlikely). Inside the piano, the pickup rail was wired to several circuit boards, which were configured as two separate keyboard zones (controlled by a switch on the namerail). This allowed the treble and bass ranges of the piano to be affected differently when fed to the synthesizer.
All of these experiments on the part of CBS were in reaction to the evolution of polyphonic synthesizers, which were quickly eating up the keyboard market. As Major Key's John R. McLaren put it, you could "throw a synth in the back of your VW Beetle" a lot more easily than a Rhodes, and ultimately the Yamaha DX7 would put the nail in the electric piano's coffin.