Leeds Rentals "E" Rhodes
owner: Anonymous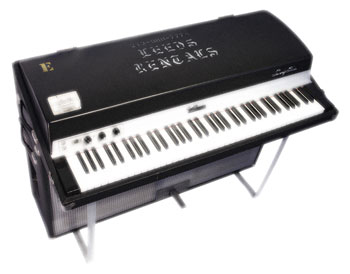 The Leeds Rentals "E" Rhodes was a legend in the early 80's LA studio scene, making its mark in particular on Al Jarreau's albums at the time (Jarreau, Breakin' Away, This Time). An article in Keyboard by Bob Doerschuk revealed the secrets of Tom Canning's sound on these albums: "...on this particular Rhodes, according to Canning, Ronnie Foster, Jay Graydon, Donald Fagen, and many other session players who regularly use it, all the elements come together perfectly; its action is light and fast, there is no key wobble, and the tone is distinctively pure. Canning reports that the E Model is 'ideal for the kind of recording sessions that have been going on in this town for the past five years, which require you to be able to dig in, but still have both depth and brightness.'"
The E Rhodes is a Fender Rhodes Suitcase 73 with date stamps on the harp indicating that it was built at the end of 1971, S/N 50928. The FR 7054 amp cabinet, however, was a replacement from around 1975-77 with the "Rhodes" logo, S/N 495-3666. The amp's electronics were modified heavily by Eddy Reynolds, who had added a custom preamp that gave the "E" its legendary tone, as well as stereo XLR direct outs and a switch for disabling the built-in speakers. The toggle switch on the control panel allows for switching between Eddy's custom preamp and the original Peterson EQ circuit (as if you'd really want to use the original EQ...).
Jay Graydon recalls the E Rhodes and its role in LA session recording: "'Leeds rentals' had about 10 Fender Rhodes suitcase models. The best one was labeled 'E'. This one was even, thick and bright. It was discovered in a store in Hollywood (Wallach's Music city) in the back room and had not sold for years! It was like they had forgotten they had the unit until Andy Leeds made the discovery while looking at old stock. Eddy Reynolds was a local tech/piano tuner in those days and discovered a way to 'voice' the Rhodes in a very desirable way. He voiced all of LEEDS Rhodes but this one was the best. All the cats knew this was the best Rhodes, and when doing tracking dates, I reserved this unit way in advance."
Jay came to us looking for the "E", wondering what happened to it. We were able to locate its current owner, who tells the story of its fate....
"Over the years I've actually owned a silver-top suitcase (I used to work in a music store in the 60s and I had actually sold the instrument to a customer and acquired it back from him in the early 80s when I was looking for the sound that I eventually found out was unique to a single instrument; the E Model), a Mark II Suitcase (which I had disappointingly modified into a Dyno-My-Piano by Chuck Monte), a Mark II Stage, a Mark V and finally the E Model. I had been obsessed with the sound that I kept hearing on certain recordings and did everything possible to try to emulate that sound: from changing hammer tips, using sophisticated EQs, expensive sound systems, and even taking my Mark II to the Rhodes factory where I had Joey Carducci work on it. I met Steve Woodyard and Harold at that time and Harold was kind enough to give me a tour of the factory, including their R&D area where they were working on a special MIDI version of a Mark V for Chick Corea. They were very interested in my Mark II because it was the Dyno modified version, so it gave them a chance to check it out. I had long discussions with Joey Carducci regarding what kind of sound/response/texture I was hoping for and he did the best he could given the circumstances. After he spent the majority of the day on it, I took it home and realized very quickly that it was a far cry from what I was hoping for. When I met with Joey, I had taken tapes of Al Jarreau tunes on which Tom Canning was playing a Rhodes and told him that was the sound I was seeking. But, as we know, it would have been impossible for him to make that happen. Meanwhile, per Joey's suggestion, I contacted Eddy Reynolds who told me that it would be impossible to make a Mark II sound like the pianos he was modifying. He didn't mention anything about the E Model.
"A few weeks later (late January of 1984) I received a call from Joey Carducci who excitedly asked me if I had read the current issue of Keyboard magazine and I told him that I had just brought it in from my mailbox. He went on to say that the mystery was solved by an article and that the sound I was looking for was indeed the result of a one-of-a-kind Rhodes that was owned by Leeds Musical Instrument Rentals in North Hollywood. My obsession and passion for pursuing the instrument eventually led me to audition the instrument at Leeds and I fell in love with it immediately. I had been taking lessons every other Monday from Terry Trotter (Larry Carlton's keyboard player at the time) and a few months later, on one of my trips to LA, I went by Leeds again. This was in May of 1985 when DX7s were becoming the hot item and musicians were abandoning their heavy Rhodes for the lighter-weight digital keyboards. I had also heard that Leeds was possibly going to close down. I asked to play the E Model again, which they kindly set up in their warehouse, and captivated by its sound and playability, I decided then and there that I had to have it. I spoke with Andy and made him a very substantial offer and he accepted. This was a dream come true. I was now the owner of the instrument that I had lusted for so long.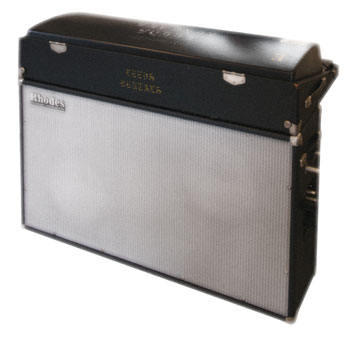 "When word got out among musicians in Santa Barbara, the owner of a music store that I frequently traded with, Castle Music, called me and told me that Harold Rhodes was visiting his store at that very moment and that Harold had heard about the E Model and was excited that the owner of the store told him that the person who owned it lived here in Santa Barbara. Long story short, Harold and Margit came to my house and I played it for them through a Carver amp, two SPX90s and 2 Yamaha S115 speakers. He was immediately stunned and when he regained his composure he pronounced the E Model 'the best Rhodes I have ever heard'. I was thrilled that the founder and builder of countless generations of Rhodes Electric Pianos was sitting in my home telling me that I owned the best Rhodes he had ever experienced. It has continued to remain my most treasured possession ever.
"The keyboard top has been delicately stored since I bought it in 1985, so it is in exactly the same condition as when I got it, and as for the rest, the E Model has remained in the tender loving care of a temperature and climate controlled environment of my studio, so it is virtually like it was in 1985. A testament of that is that it has retained perfect tuning for decades (it came with minimal stretch tuning which it still exhibits)."