Josef E. Zawinul: Electric Piano Pioneer (1932 - 2007)

"It was there when it all started, and it's still around. That's the mark of a great instrument." (Rhodes Mark II Brochure, 1981)
Joe Zawinul was the ultimate pioneer of the electric piano in jazz and fusion, not to mention synthesizers and other electronics. He was one of the original Fender Rhodes players who worked with Miles Davis, but he actually began his exploration on the Wurliter Electric Piano owned by Ray Charles as the two of them worked together early in Joe's career. By the mid-60's Joe was playing with Cannonball Adderley's group, producing the enormously popular hit "Mercy, Mercy, Mercy!" recorded on none other than the Wurlitzer in 1966. Around this time the original Fender Rhodes Electric Piano had gone into production, and by 1969 you could hear him playing one with Miles on the albums In A Silent Way and Bitches Brew. Following these early experiments in electric jazz, the supergroup Weather Report was born in 1971, with Joe and saxophonist Wayne Shorter as founding members. Throughout the band's 15-year lifetime Joe was known to be surrounded by an arsenal of synthesizers, but the Rhodes was always the "central keyboard".
In an interview published in a full-page CBS/Rhodes magazine ad circa 1978, Joe was stated as saying: "I haven't peaked yet. When you peak you stop creating." At age 75, he finally hit his peak in the middle of what would be his last tour with the Zawinul Syndicate, his own electric group of nearly 20 years. Joe moved on to a new place in the cosmos on September 11th, 2007. But his sound still lives in all of us.
---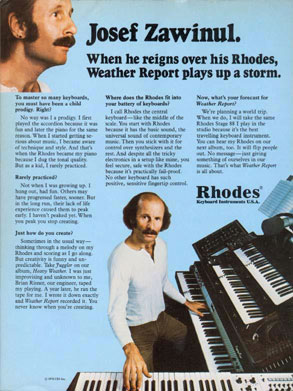 To master so many keyboards, you must have been a child prodigy. Right?
No way was I a prodigy. I first played the accordion for fun and later the piano for the same reason. When I started getting serious about music, I became aware of technique and style. And that's when the Rhodes became my piano because I dug the tonal quality. But as a kid, I rarely practiced.
Rarely practiced?
Not when I was growing up. I hung out, had fun. Others may have progressed faster, sooner. But in the long run, their lack of life experience caused them to peak early. I haven't peaked yet. When you peak you stop creating.
Just how do you create?
Sometimes in the usual way - thinking through a melody on my Rhodes and scoring as I go along. But creativity is funny and unpredictable. Take Juggler on our album, Heavy Weather. I was just improvising and unknown to me, Brian Risner, our engineer, taped me playing. A year later, he ran the tape for me. I wrote it down exactly and Weather Report recorded it. You never know when you're creating.
Where does the Rhodes fit into your battery of keyboards?
I call Rhodes the central keyboard - like the middle of the scale. You start with Rhodes because it has the basic sound, the universal sound of contemporary music. Then you stick with it for control over synthesizers and the rest. And despite all the tricky electronics in a setup like mine, you feel secure, safe with the Rhodes because it's practically fail-proof. No other keyboard has such positive, sensitive fingertip control.
Now, what's your forecast for Weather Report?
We're planning a world trip. When we do, I will take the same Rhodes Stage 88 I play in the studio because it's the best travelling instrument. You can hear my Rhodes on our next album, too. It will flip people out. No message - just giving something of ourselves in our music. That's what Weather Report is all about.
---
Super Site Historian Frederik Adlers reflects on Joe Zawinul's life (09/20/07):
Josef Erich Zawinul, one of modern jazz key figures died in Vienna, Austria 11th September 2007. He recently celebrated his 75th birthday (07/07/32) on tour in Europe.
It's hard to measure his importance in modern music and to find his equal anywhere. His life's original and cross-cultural story is reflected in his music in a unique way, and in a category all by itself.
From his native Austria, where he started as an accordion child prodigy, via classical piano and composition studies and a career as a jazz pianist in Europe, he arrived in the US to study at Berklee in 1958 and stayed for a week!
Rapidly he became a part of the New York jazz scene. From an eight-month stint in the Maynard Ferguson Band (where he met Wayne Shorter), a while with Slide Hampton and two years as Dinah Washington's pianist, he got his breakthrough in the Cannonball Adderley Quintet in 1961.
His first influences were George Shearing and Erroll Garner. He also recorded with Ben Webster and Coleman Hawkins, who used to jam and practice in his apartment, and even lived there from time to time.
He spent nine and a half years with Adderley, while working as a session musician with, among others, Aretha Franklin, King Curtis (with Jimi Hendrix) and Miles Davis.
Miles wanted Zawinul to succeed Wynton Kelly in his group early, but Joe turned him down with the classic reply: "We'll make history some day, when the time is right!"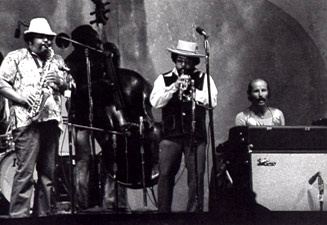 He liked playing in Adderley's band, which had a lot of soul and blues flavour, was widely popular outside of the mainstream jazz audience and also had quite a few big selling records. They were often penned by Zawinul: "Mercy, Mercy, Mercy!", "Walk Tall" and "Country Preacher" are a few examples.
He encountered the Wurlitzer Electric Piano as early as 1959, when Dinah Washington and Ray Charles sometimes did gigs together, and Charles' piano was set up on stage. So, when recording his "Mercy, Mercy, Mercy!" with Cannonball in 1966, it was natural for him to choose the Wurli that belonged to the studio. Shortly thereafter, when touring to promote the big success of the record, fellow pianist Victor Feldman told him about the Fender Rhodes Electric Piano, and got Joe in contact with Harold Rhodes.
He quickly replaced the Wurli he had been using, and soon the news of this new sound reached Miles Davis. Davis was experimenting with instrumentation at the time after "Sorcerer", and found out that Cannonball was on tour in Mexico. Eager to hear the new instrument Davis took a flight down there, only to find out that the city was blackened by a power outage that particular night, and the band had to play acoustic. So next time they met was back in Joe's apartment in NYC. When showing Miles the Rhodes, Joe played him a couple of songs he had written that didn't fit in the Adderley repertoire. Among them were "Directions", "In A Silent Way", "Ascent" and "Early Minor".
Say no more...the rest is history.
These two visionaries had similar new sounds in their heads, and the songs were perfect for a combination of electric and/or unusual instruments and rock/beat/funk influenced rhythms and riffs.
Besides triggering each other, they triggered all the other musicians participating in the sessions, and later the Miles Davis album Bitches Brew immediately became the best selling jazz record of all time for many years to come. The other musicians read like a who's who of jazz celebrities in the 70's, and all became leaders in their own right in the fusion era (and still are!): John McLaughlin, Keith Jarrett, Chick Corea, Herbie Hancock, Jack DeJohnette, Tony Williams, Dave Holland, Buster Williams, Wayne Shorter, Steve Grossman, Bennie Maupin, Airto Moreira, Lenny White, Billy Cobham, Gary Bartz, George Benson, Billy Hart, Don Alias, Michael Henderson and Larry Young.
The whole new style and jazz era that came out of these sessions was almost completely dominated and developed by these musicians in bands like Tony Williams' Lifetime, Herbie Hancock's Sextet and later Headhunters, Mahavishnu Orchestra and Return To Forever. Joe Zawinul and Wayne Shorter started Weather Report, the group that outlived all the others, and went on to be one of the most famous jazz groups ever and also a group to produce many new talents. The name "Weather Report" came out of the two leaders' confidence in their ability to forecast where jazz was heading! We had the pleasure of hearing this group with two of the greatest composers of modern jazz for 15 years, and we still can listen to the 17 albums they produced. The Rhodes piano was the only keyboard in the beginning and maintained a central role in Weather Report's sound for most of its existence.
The original version of their greatest hit "Birdland" from the 1977 album Heavy Weather first won a Grammy in '77, and later on, two more for cover versions by Manhattan Transfer and Quincy Jones.
After Wayne Shorter left the group in 1985, Zawinul toured solo for a while, then formed the short-lived "Weather Update" before finding success with the Zawinul Syndicate in 1988, the combo he still toured with just days before he was taken to hospital. Syndicate also was a great growing ground for new players from all over the world, and Zawinul had a unique way of finding extraordinary talent.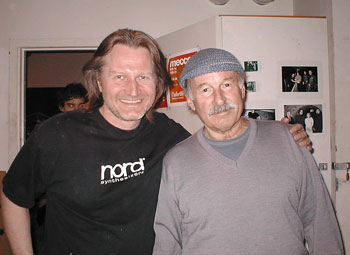 In recent years he spent a lot of time back home in Vienna, Austria, besides in his house in Malibu, CA and his studio "Music Room" in New York. He also ran the club "Birdland" in the basement of the Hilton Hotel in downtown Vienna as well as recording with symphony orchestras and doing solo projects.
I passed his house in Malibu just a year ago (Nov. 2006) and tried to reach him over the phone, but he was busy, so we agreed to meet and talk here in Gothenburg when he was booked to play at the Nefertiti jazz club on November 5th and 6th this fall (2007).
Instead I got the horrible news on the 8th of August that he had signed in to the Wilhelmine cancer clinique in Vienna right after the summer tour, and just a month later he was gone. Spontaneously a stream of Gothenburg's jazz musicians came down to the club to talk about Joe and to honor him. Fittingly Georgie Fame, who was playing that night with Bill Wyman's Rhythm Kings, sang a version of "Mercy, Mercy, Mercy!". After that there was an empty silence...and still is.
Frederik "Freddan" Adlers
Mölnlycke, Sweden
20th September 2007
---
Joe's Official Website: http://www.zawinulmusic.com
More Links: